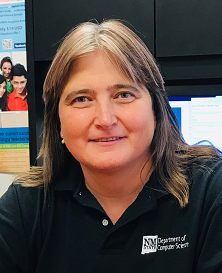 Inna Pivkina's Home Page
About myself
I am an associate professor in the Computer Science department at New Mexico State University. I got my PhD in Computer Science at the University of Kentucky . Learning Discrete Mathematics and Computer Science via Primary Historical Sources

Schedule of NMSU classes. NMSU Academic Calendar. NMSU Graduate and Undergraduate catalogs. CS catalog entry. Graduate school. List of CS faculty. CS Web Mail. CS intranet. Canvas Log In.

International Student Admissions at NMSU. Undergraduate Admissions at NMSU.
Research Interests
Computer science education, data mining applications, natural language processing, knowledge representation and reasoning.
Contact information
Mailing address:
Dr. Inna Pivkina
Department of Computer Science
1290 Frenger Mall SH 123
Las Cruces, NM 88003-8001
Office: SH 172.
Phone: (575) 646-6237.
Fax: (575) 646-1002.
e-mail: ipivkina (at cs.nmsu.edu)
URL: http://www.cs.nmsu.edu/~ipivkina
I was one of the organizers of Summer School on Logic Programming and Computational Logic , July 24-27, 2008.
Related links
Miscellaneous
I enjoy hiking a lot. Take a look at a photo of me at the top of South Rabbit Ear in Organ mountains.